How to watch second SpaceX Starship flight test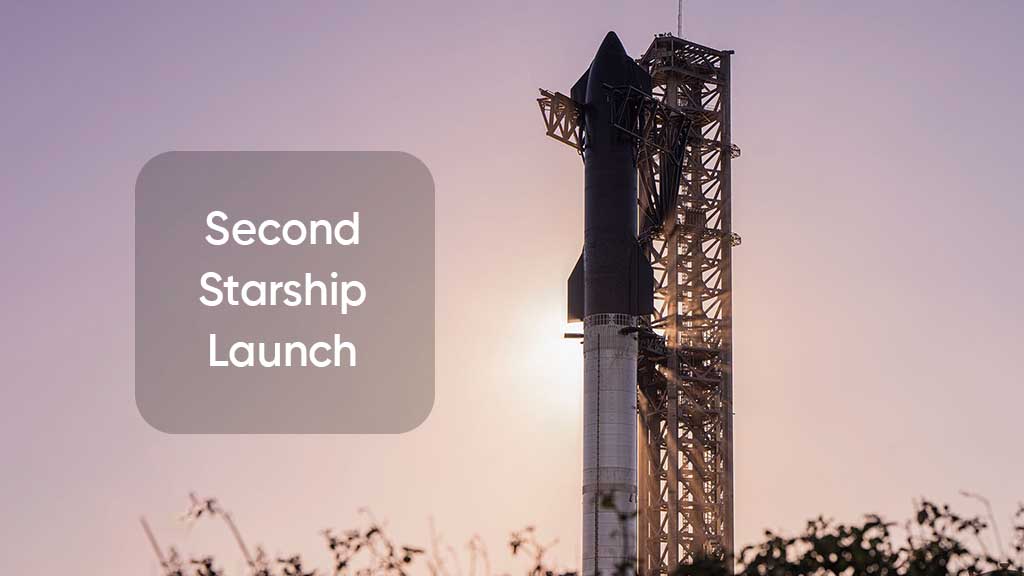 SpaceX will conduct its second integrated Starship flight launch test at 7:00 a.m. CT and you can watch the broadcast today online on social media site X 35 minutes before the liftoff countdown at 6:25 a.m. CT.
SpaceX confirmed that the superheavy Starship flight is set and ready for launch at the launch pad in Starbase, Texas. Meanwhile, the company has checked all systems and the weather is also favorable. Still, the launch plans may change based on the scenarios and the weather conditions at the launch time.
Earlier today, SpaceX Founder and CEO, Elon Musk posted a short video of 33 Starship engines from beneath this massive space vehicle.
Launch Preparations: Before Liftoff:
02:00:00 SpaceX Flight Director conducts a poll and verifies GO for propellant load
01:37:00 Booster LOX (liquid oxygen) load underway
01:37:00 Booster fuel load (liquid methane) underway
01:17:00 Ship fuel load (liquid methane) underway
01:13:00 Ship LOX load underway
00:19:40 Raptor begins engine chill on booster and ship
00:00:10 Flame deflector activation
00:00:03 Raptor ignition sequence begins
00:00:00 Excitement guaranteed
Post liftoff sequence:
The integrated flight to achieve Max Q at 52 seconds of the liftoff. At 2:39 minutes, the booster will call most engines cutoff. At 2:41 minutes the flight will perform hot-staging with Starship Raptor engine ignition and stage separation.
At 2:53 minutes, the booster will perform boostback burn startup, which will shut down at 3:47 minutes. The booster will reach transonic at 6:18 minutes, after 20 seconds, it will start landing burn and in the following 18 seconds, the booster will shut down the landing burn.
At 8:33 minutes starship engine will cut off. after an hour of full circle, Starship entry happens back to earth's atmosphere and it will transonic at 1:28:43 hour. Finally, Starship will perform a landing at 1:30 hours.
You can watch the entire second Starship flight launch test broadcast at X (here).