xAI is developing Grok conversation sharing feature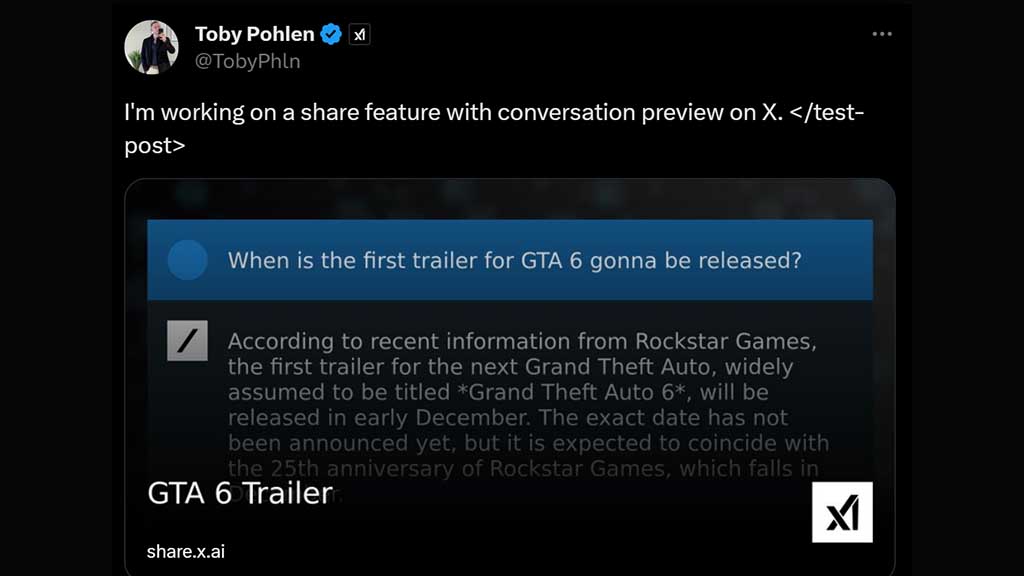 xAI is now working on a new feature to enable sharing of the ongoing conversation with Grok and also a preview directly on the X social media site. xAI team's Toby Pohlen put some of the details about this new capability and how it will work.
While sharing a conversation on X, the social media site will now show a preview of the entire conversation as a featured image, more like a news article preview. You can see a title and redirect URL on the bottom left of the shared conversation preview.
Once clicked, the shared Grok reply will redirect you to the xAI website to showcase the entire conversation shared by the user including the user prompt.
X users found this new addition very useful and interesting as it will allow them to share Grok's replies with other people. More importantly, anyone can see the replies even if you don't have an X account. Because all of the shared conversation is hosted on xAI's website.
However, we don't have an exact clue of how the company would operate with this feature in the near future.
Launched on November 4th, xAI's Grok is a large language modeled to answer with humor. Initially, xAI announced a waitlist to sort out testers for beta activity. However, there are plenty of people waiting to test this new generative AI chatbot as soon as possible.
(source)