Ukraine's Myrotvorets kill list adds Elon Musk and removed, a cheap move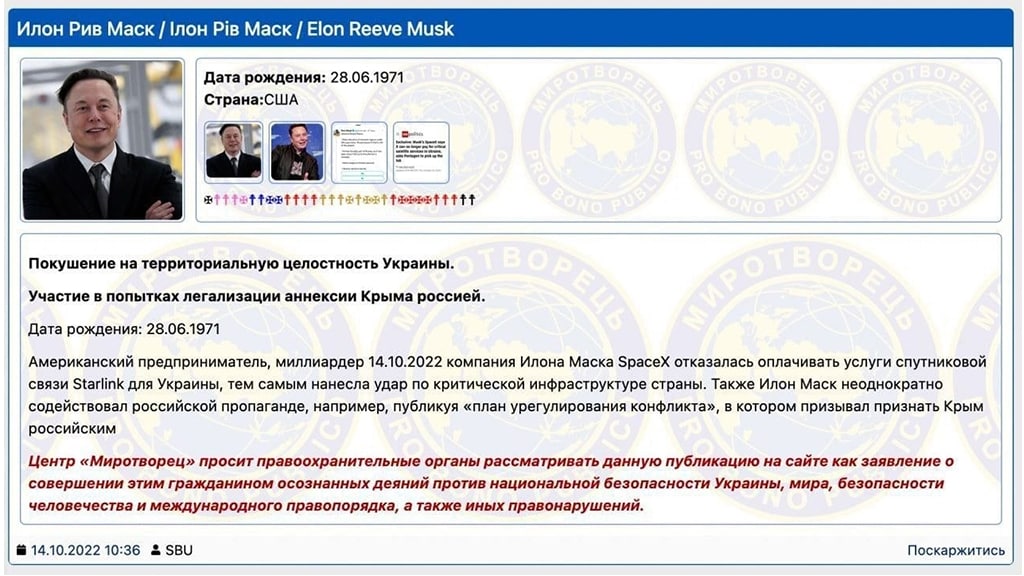 Elon Musk has been widely known as an evolution in the world for his futuristic thinking and powerful innovations. However, hatred has no stop, it goes in people and spreads into the world. Today, a screenshot is being shared widely on Twitter and it's related to Elon and a cheap move against him.
The screenshot shows Ukraine's Myrotvorets (website) adding Elon Musk to its kill list. This website is not simple and has a long record of illegal and controversial activities. It is connected to Ukraine's government but works as an open-source platform and under an NGO.
According to Wikipedia:
Myrotvorets or 'Peacemaker' is a Ukrainian Kyiv-based open-source investigation website and NGO that publishes a running list, and sometimes personal information, of people who are considered by authors of the organization to be "enemies of Ukraine", or, as the website itself states, "whose actions have signs of crimes against the national security of Ukraine, peace, human security, and the international law".
Elon Musk listing on Myrotvorets:
The listing includes:
Elon's date of birth,
his photos and articles's screenshots,
nationality,
subject of listing,
a short description,
long description.
Below you can check the translated text of this screenshot and it's quite disturbing text to read.
An attempt on the territorial integrity of Ukraine. Participation in requests to legalize the annexation of Crimea by Russia.
American businessman and billionaire On 10/14/2022, Elon Musk's company SpaceX refused to pay for Starlink satellite communication services for Ukraine, thereby striking the country's critical infrastructure. Also, Elon Musk has repeatedly supported Russian propaganda, for example, by publishing a "conflict resolution plan" in which he called for Crimea to be recognized as RUSSIAN.
The "Peacemaker" Center asks law enforcement authorities to consider this publication on the site as a statement that this citizen committed a deliberate act against the national security of Ukraine, the peace, the security of humanity, and the international legal order, as well as other offenses.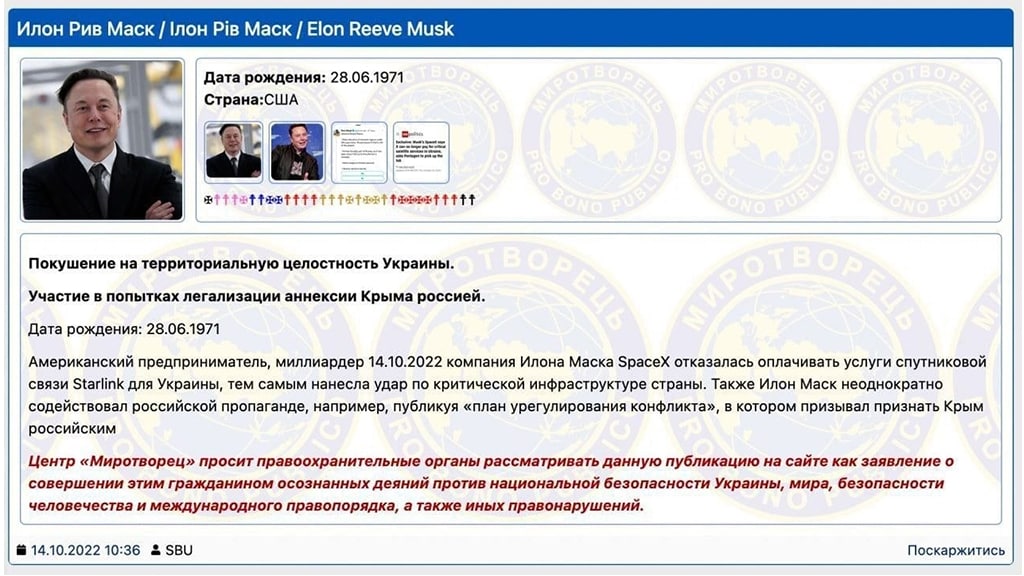 Removed:
While searching on the website, there's no clue of the database, as it may have been removed upon wide circulation over Twitter.
Eva Bartlett:
Eva Bartlett, is an independent Canadian-American writer, journalist, and human rights activist from Ontario who covers the Middle East region, particularly Palestine and Syria.
She was also listed on the Myrotvorets database (link), and importantly on 20.09.2019. She wrote:
I've been speaking & writing about this list for years, after being placed on it in 2019, but now that Musk is on it, after Roger Waters & others, perhaps the "peacemaker" list might itself be killed.
Musk added to Ukraine's Myrotvorets kill list (which includes 327 children!)

I've been speaking & writing about this list for years, after being placed on it in 2019, but now that Musk is on it, after Roger Waters & others, perhaps the "peacemaker" list might itself be killed… pic.twitter.com/lLUxnReZZp

— Eva Karene Bartlett (@EvaKBartlett) October 14, 2022
Myrotvorets working with the Ukrainian Government:
In its work, the Centre pays special attention to expressions of "separatist and terrorist activities" on the territory of Ukraine.
"Myrotvorets" is also recognized by the courts of Ukraine when making decisions. The data of the collection on the website is used in court decisions at all stages – from the beginning of the pre-trial investigation to the conviction of the person. In numerous rulings, judges also accept information from the "Myrotvorets" as material evidence. The use of the website applies not only to criminal cases but also to civil legal relations and fact-finding acts. As of 2019, data from the site was used in over 100 cases.
Myrotvorets has often blacklisted people over Crimean-related issues, which usually means they cannot cross into Ukraine due to the site's usage in border entry checks. Gerhard Schröder was added after he said the Crimean annexation was "a reality that must one day be recognized".
Roger Waters was added when he said Russia has more rights to Crimea than Ukraine. Silvio Berlusconi, Roy Jones Jr, and a number of Russian pop music stars were all added for visiting Crimea, which Ukraine calls an illegal border crossing.
Cheap Move:
Elon is continuously supporting Ukraine and SpaceX Starlink has already donated $80 million worth of services to the country, which will exceed $100 million by the end of this year. Starlink is proved as a game-changer for Ukraine's strategy and this is how you repay Elon's good work.
Some people never understand the meaning of peace and doesn't matter even if they add 'peacemaker' in their name. However, this is a cheap move from Myrotvorets to add Elon Musk to its database.
Twitter co-founder believes Elon Musk is not a suitable owner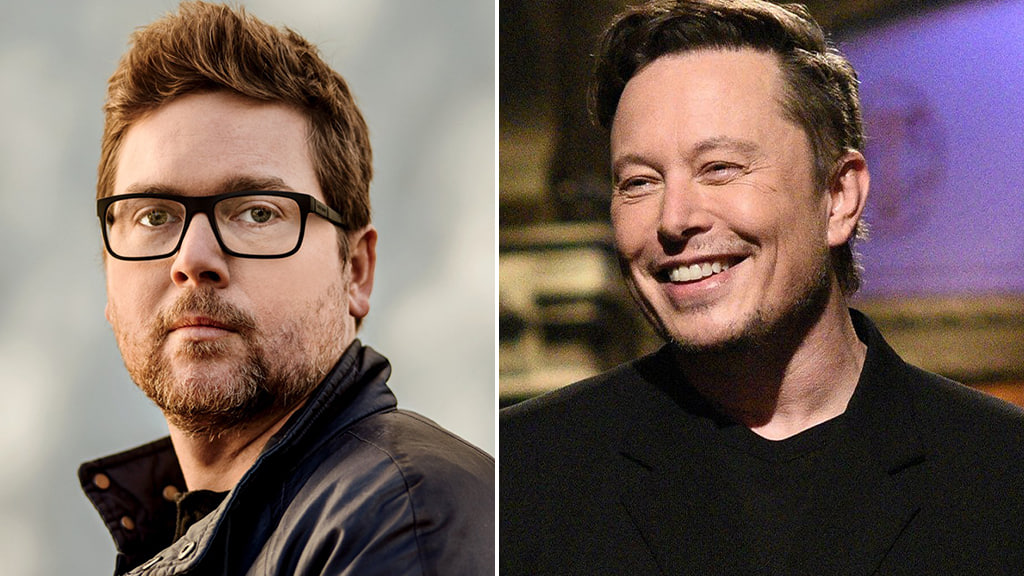 After its purchase in October, Elon Musk has made rapid changes in Twitter and the sound of the headlines in the media could give you an idea of this fast transition, meanwhile, a Twitter co-founder doesn't seem to be happy with the platform's new owner.
Biz Stone, co-founder of Twitter told Guardian that Elon Musk has undone the changes his team made on social media over the past year.
While being asked about Elon, Stone replied that "he doesn't seem like" the right person to lead Twitter. It doesn't seem like it right now, but I could be wrong."
He also mentioned the changes such as firing employees, introducing new features with Twitter polls, and restoring blocked Twitter accounts such as Donald Trump as well as the release of Twitter Files.
What Elon is actually doing:
Following the Twitter buyout, Elon reduced child exploitation content and increased child safety. He then reduced the unrequired workforce.
Elon is actively working to improve the speed and efficiency of Twitter for different platforms including Android and iOS. That's not it, Elon is making the platform more accessible for all users and making it interesting by introducing new features.
Unlike previous management, scams such as crypto and bot have been effectively controlled. Looking at the latest statics, Twitter's usage is running all-time high and the platform engagement is way better than ever.
It's hard to find what improvements Mr. Stone was talking about, Elon is surely handling the platform way, way better than the entire past Twitter management.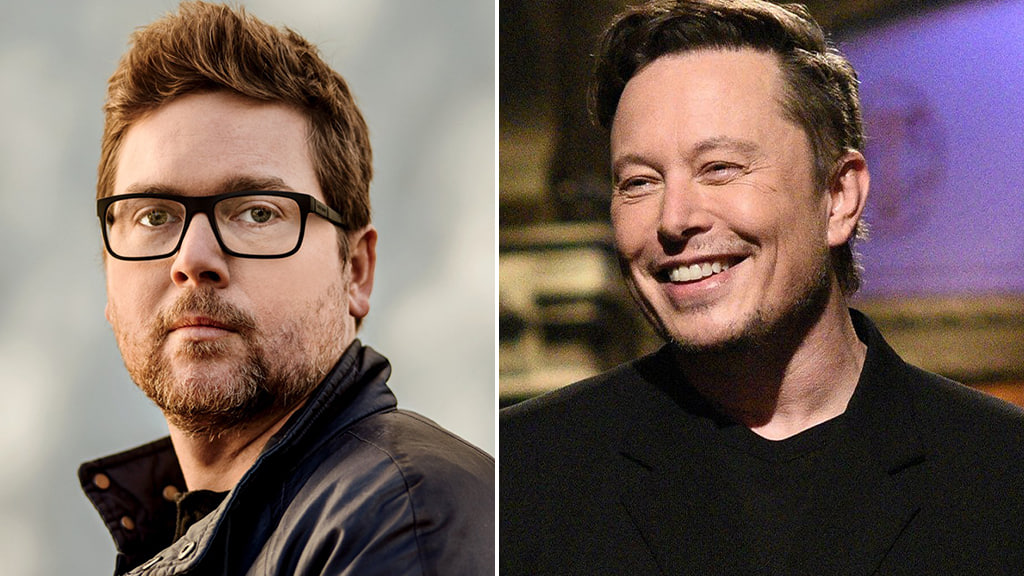 'Keep them operating' Elon Musk on nuclear reactors in Germany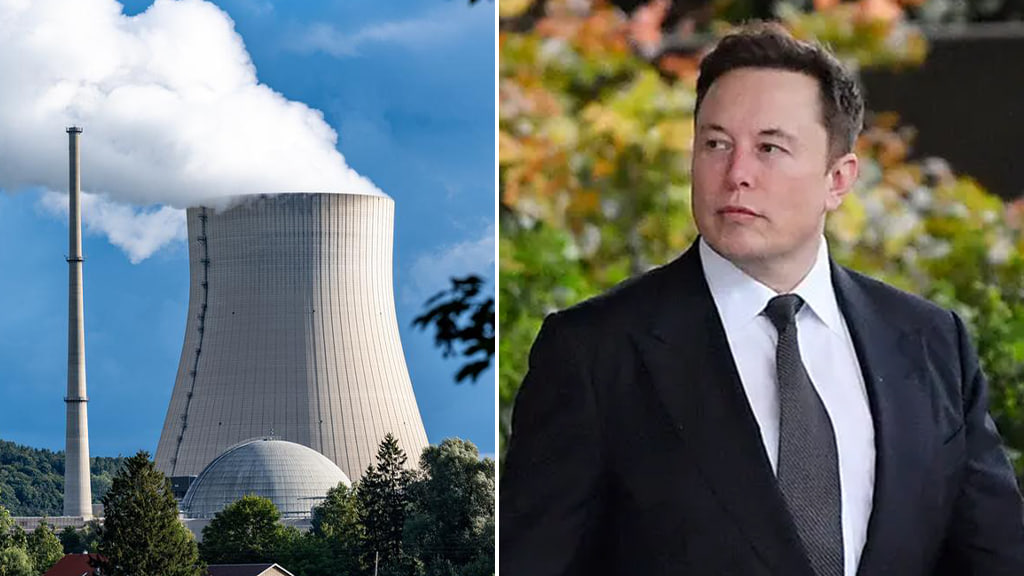 When it comes to nuclear power, Germany has an up-and-down relationship with this energy source and people in the country are now favoring keeping them operating nuclear reactors, while Elon Musk agrees.
Giving a nod, Elon said that "they should keep them operating!"
They should keep them operating!

— Mr. Tweet (@elonmusk) January 28, 2023
Previously, the majority of the public was in favor of the nuclear phaseout in the aftermath of the Fukushima disaster; now over 80% are in favor of extending the lifespan of Germany's existing nuclear reactors.
Nuclear energy is seen as a preferred energy source to fall back to burning coal. According to the Dutch-based anti-nuclear group WISE, nuclear plants produce 117 grams of CO2 emissions per kilowatt-hour, much lower compared to burning lignite which emits over 1,000 grams of CO2 per kilowatt-hour.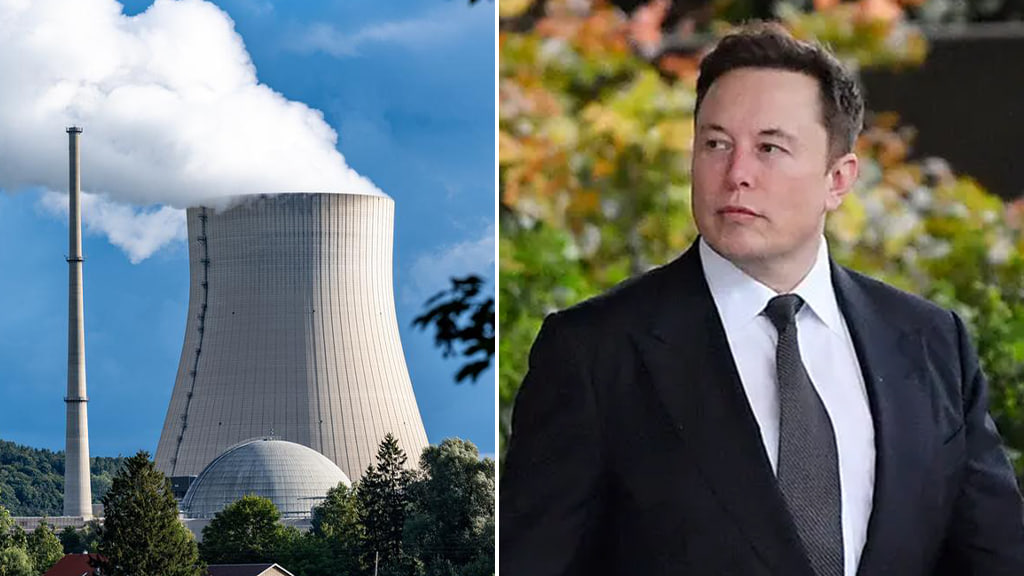 Elon Musk could send Apple picker robot to hunt enemies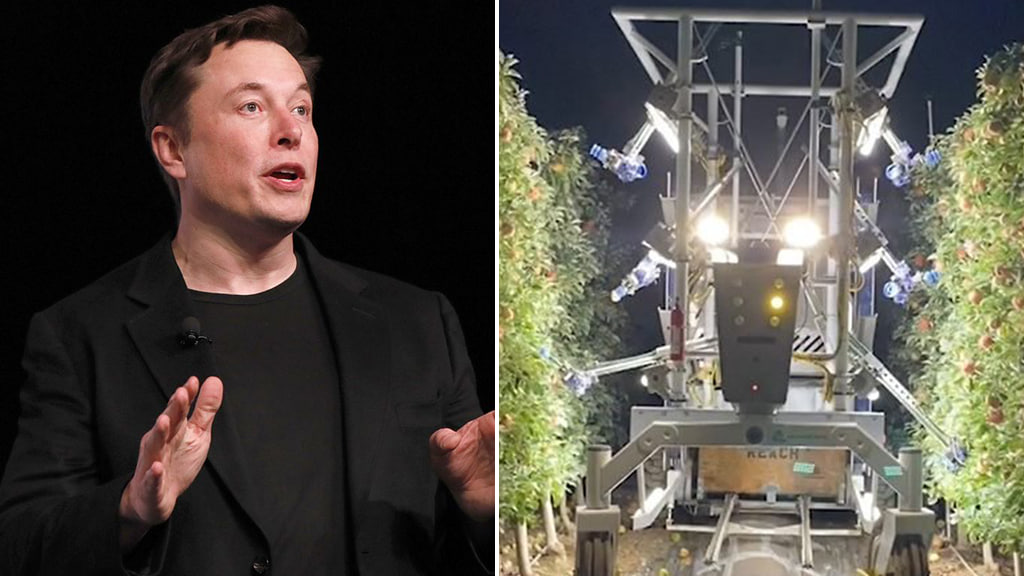 A Twitter user posted a video of an advanced farm robotic apple harvester that could pick 30 apples in one minute, the robot is looking quite good and Elon Musk has some words to say.
Elon Musk wrote that "And could hunt your enemies", who should we send it after though? That's an interesting topic.
And hunt your enemies

— Mr. Tweet (@elonmusk) January 28, 2023